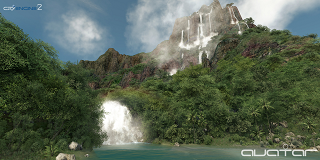 Kazuyuki "Kaz" Hashimoto
has the most exciting job on the island: Overseeing the genesis of
Blue Mars
, a massively multiplayer virtual world (MMVW) set on a futuristic terraformed Mars. Blue Mars sports graphics that make Linden Lab's
Second Life
look like 1980's Ultima. Kaz has all the right tools to make Blue Mars a success. He moved to Hawaii in 1997 to establish Square's Honolulu CG production studio where he was responsible for development of the 3D production systems used in the famous Final Fantasy VII game and cinematic CG tour de force Final Fantasy: The Spirits Within. Kaz also served as Vice President of Technology, New Platforms, at Electronic Arts where he was in charge of development for the PlayStation 3. If you met him on the street you would never know. He is a humble, likable guy who isn't prone to advertise his achievements, but once you engage him in a discussion about the MMVW space his enthusiasm flows.
Kaz launched Avatar Reality in 2006 with the backing of
former Featured Techie
and serial entrepreneur
Henk Rogers
. The company was founded on the belief that rich immersive virtual worlds will be the next big wave in online social interaction. Kaz has assembled an impressive brain trust of industry leading game developers and 3D CG experts to help him realize his vision. His goal is to make a virtual world that is maximally "beautiful and enjoyable." Kaz is working with multiple partners to produce quality content for his new world including companies in the fashion, real estate, education and game spaces.
It is with great pleasure we announce Hawaii's 3D CG rock star, Kaz Hashimoto, as January's Featured Techie.
Japanese Version